/
/
/
Wendy Mocke wins the 2023 Griffin Award
Wendy Mocke wins the 2023 Griffin Award
July 26, 2023
Wendy Mocke has been awarded the 2023 Griffin Award for new Australian playwriting for her play I am Kegu.
Kegu, a Papua New Guinean woman who cares for her elderly mother in their village is pressured into getting married and becoming a second wife to the son of a village chief. Rallying against this arrangement, Kegu finds her mother and their village have a lot to say about unmarried women. Kegu is caught in the crossfire as secrets unravel around them and lead to a devastating showdown.
Mocke was awarded the $10,000 prize for I am Kegu in a ceremony on Sunday 23 July at the SBW Stables Theatre. 150 entries were assessed anonymously by a panel of artists and whittled down to five shortlisted plays, each of whom took home $1,000. The shortlisted plays comprised of: Your Name by Kate Bubalo, Animal by Cassie Hamilton, Christ Is Back by Laurence Rosier Staines and Goodbye Eli Anderson by Grace Wilson. Four leading industry professionals including: Griffin's Artistic Director Declan Greene, Griffin's Literary Manager Dylan Van Den Berg and Angela Betzien then reviewed the shortlist and chose Wendy's play as this year's winner.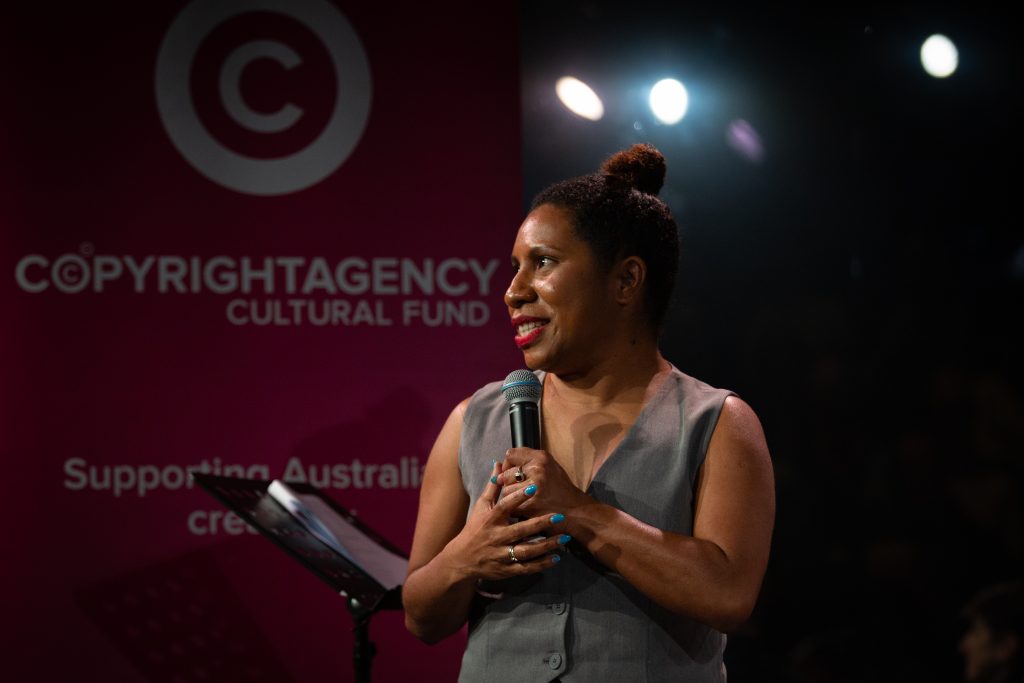 Van Den Berg commented, "I am Kegu is a remarkable new work from Wendy Mocke, at turns both tender and – rightfully – rageful. With echoes of Greek tragedy and a specific, intimate rendering of village life in Papua New Guinea, this play is a powerful and truthful evocation of a devastating reality for women. The judges were unanimous in their decision; the craft and ambition of the work is undeniable, and Wendy's is a voice that demands to be heard."
On winning the Award, Mocke said "I know my ancestors held my hands writing this play. It has been a labour of love and self-realisation. Winning this award as a Papua New Guinean playwright, proudly writing in my people's languages is the stuff dreams are made of. Tenkiu tru, PNG yumi stap."
The Griffin Award is a national competition which celebrates an outstanding play or performance text that displays an authentic, inventive and contemporary Australian voice. The award has a rich history of recognising new talent and propelling forward the careers of emerging Australian writers. Previous winners include Lachlan Philpott, Debra Oswald, Brendan Cowell, Mary Rachel Brown, Suzie Miller, Mark Rogers, Dylan Van Den Berg, Megan Wilding and Grace Chow. Angus Cerini's The Bleeding Tree took out the Award in 2014 and went on to win the NSW Premier's Literary Award and the Helpmann Award for Best Play in 2016. Prima Facie's original production has seen multiple seasons in Sydney and nationally, with subsequent productions in South Australia, and notably, the Olivier and Tony Award-winning production starring Jodie Comer.
Josephine Johnston, CEO Copyright Agency says, "This award is particularly important because it recognises and rewards emerging talent and nurtures the creation of distinctively new Australian stories." Copyright Agency's Cultural Fund proudly provides vital grants for the creation of new Australian work and support for income generating projects.
Wendy Mocke is a Papua New Guinean interdisciplinary storyteller and a NIDA Acting graduate, working across live performance and film as an actor, writer and visual artist. A former member of the Sydney Theatre Company's Emerging Writers group, Wendy's play I am Kegu was shortlisted for last year's Patrick White Playwrights Award and the Rodney Seaborn Playwrights Award. Wendy has had stage plays in development programs across Melbourne Theatre Company, Queensland Theatre Company, Griffin Theatre Company and Darlinghurst Theatre Company. Last year, Wendy worked on TV series It's Fine, I'm Fine that went onto premier at Canneseries in April last year. She is currently a Writing Fellow at Queensland Theatre Company and is a recipient of the 2023 Malcolm Robertson Foundation Commission through Malthouse Theatre Company writing Kirk's Backyard (My first caucasian play). Recently Wendy's stage play REALish was a finalist for the Australian Theatre Festival NYC for the 2023 New Play Award. One of Wendy's quests as a writer and artist is to make alive what is quiet and asleep in Melanesian stories and unpack the myriad of layers that is Black Pacific Islander identity.
Entries for the Griffin Award 2024 will open in late 2023.
Photographer: Sarah Hadley